Administrator
Staff member
Administrator
Moderator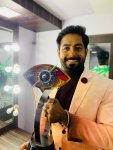 A one man show in this whole season. He deserve this biggest WIN to show his mental strength and struggle. Kamal sonna maathiri, muthal oru few weeks oru maathiri pochu. Appuram dhaan ovverutharooda suya roobham and ivarooda thaakku pidikira thiran NERMAI ellam sema MASS.
Nethu antha final show la TORPHY ah thooki nikkura time ellarukum sandhoshama irunthuchu, except that fake anbu drama gang. Idhula gaandana vishayam enna na, andha vesha bottle NARI pandiyan thambi sonaan paaru, unakkum veliyaa FANS irukaanganu( avaru media la padhivu panuraaram pa, fans irkkuranganu). Yeppa raasa, unga sister industry la eppadi famous aananganu konjam ninachu paartha neeyea vekka paduva. Google panni paarunga,
ramya pandiyan photoshoot pictures
. Appo theriyum unga FANS eppadi patta fans nu. Idhu ungalai korai sollanumnu solala, AARI ah target panni senjaanga paaru, adhuvum andha balaji pinnadi ninnu friend friend solli support panina paathiya, athukaaga solluren, Idhu naan mattum solala. twitter la ovveru postum apidi dhaan irukku.
https://twitter.com/AsianetNewsTM/status/1177513393684533250
Mela irukira post and images, mostly news media channel la avanga publish pannina pictures and titles ah padichu paarunga. Oruvarai korai sollanumnu idhai inga eduthu solala, neenga panina NARI velaikaaga dhaan sollurom.
Aaari pontra neriyamaiyaa vilayaadura aatkaluku against ah oru kootam enna whole HOUSE mates-ey vara time neengaley ninaikka vendamaa? avar neramiyaa irukiraru, yaaroda madaiyilum paduthu massage pannurathuku house-ku varalanu.
Neramai vellum, Neramai ventrathukkaana saatchi 16 crore votes just for only one single common man.