Hey EveryOne,
Its a book review!!! If everyone reads this buk, I think world wud be a better place lolz, letz dive in!!
Name of the book : Difficult Conversations [How to discuss what matters Most]
Written by : Douglas Stone, Bruce Patton and Sheila Heen
okay, indha book enna soldhu nu konjo briefa parkalam, naan thanglish la ezhudhuren, because naama enna soldrom apdindradha vida, adhu yarukachum purinjudha apdingradhu dhan important
sevudan kaadhula sangu oodhura madri ayda kudadhu ilaya! ri8 lemme start :S
Enada idhu bookoda pera difficulta irukudhu, difficult conversations na enna !
Directa tamil la translate panna "kadinamaana uraiyaadalgal" [ edhu mukiyamo adha epdi discuss pandradhu] - idhanga book oda title!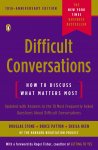 Adhaavdhu naama dhinasari vaazhkai la face panra situations and pesura topics ellam romba softa , mostly meaningless avum dhan irukum, apapo thidirnu sexuality, religion, politics nu pesrapovae damaal nu idi vizhundha maadri oru sanda vandrum ila orutharoda ideas inoruthar accept panika mudiyadha madri kasapaana experiences nadakum, aana adhai sariya epdi pesanum nu therinjutu pesina, adha vida productivaa oru time iruka mudiyadhu! Indha madri general topics matum illainga, for example, namma friends, appa amma, boyfriend girlfriend, vela paakura edathula higher officials or teammates ivanga kita lam pesrapo, oru idea la disagreement vandhuchuna, adhuku aprm adha pesi solve panna matum dhan andha relationship healthya irukum and naamalum nimadhiya iruklam!
For eg,
1) unga lover kitayo ila spouse kitayo oru sorry keka kuda bayama irukum, because again andha topic varum, sanda varum!
2) unga manager kita poitu, enaku indha velai pidikla, naan vera velai theditu irukenu soldradhu
3) appa amma kita poitu, enaku marraige la laam interest ila, unga vaazhka mudinjuruchu, idhu enoda life, naan dhan decide panuven nu soldradhu
4) ila unga friend or colleague vaa machan sarakadiklam, naan sponsor panren nu solrapo, NO nu soldradhu
5) relationship la irukrapo, idhu workout agala, lets break it up nu straight to face soldradhu OR nama relationshipa naama fake pantu irukom, lets repair nu soldradhuku kuda oru dhairiyam venum!
6) Unga client kita poitu, avanga expect panradhu nadakadhu, aana ipdi panlam nu other options kodukradhu
Indha madri, daily daily naama neraya situations face panvom but sila nerathula matum dhan confront panuvom. Mostly naama ena panuvom na, idha ivanga kita pesi NO USE apdi nu oru mudivuku vandruvom and namaku aaga vendiya velaigala vera route la nadathitu poitae irupom,, idhu yen nu nenaikringa, because oru prachanaya pathi pesrapo, adhoda outcome nenachu oru bayam irukum and idha indha person kita pesi sari pana mudiyadhu nu naamale nenachutu deal la vitruvom! and ideas and views , pidikama irundha kuda vaakuvadham vandhura kudadhu nra reason kaaga sirichutae "AAMA SIR" potutu poiduvom haha or pesa vendiya nerathula amaidhiya irundruvom!
Innum SImple ah solanum naa namala uncomfortable ah feel pana veikra ellamae difficult conversation dhan!?
So, indha book la , manushan nimadhiya irukradhuku mukiyama vishayangal ellam discuss pani dhan aganum, adha epdi panlam nu neraya research and exercises ellam vechu pala pala examples oda ellorukum puriyara madri soli irukanga!
Moonu vidhamana conversations pathi solranga, adhavdhu oru oru difficult conversationayum pirichu paartha, adhula ellathulayumae indha moonume involve aagum nu solranga!
1. What Happened Conversation(Jeni : Nee enoda idupa paarthiya ilaya ? )
Enna nadandhuchu, yaar ena thappu pana, facts ennana! yara blame panradhu, ivan ipdi senjadhu thappu nu Judge panradhu idhellam nadakum, aana epovumae oruthara blame panradhunalayo, judge pandradhunalayo oru priyojanamum illa! Ella vidhamana conversations layum opposite party uh understand panradhum, avanga soldradha acknowledge panradhum romba romba mukiyam. naama avanga solla vara vishayatha purinijka knjm effort podrom nu therinjalae podhum, avangalum neenga solla varadhu enna nu purinjika try panvanga
2. The Feelings Conversation (
??????? )
Kandipa Kandipaah solren, feelings illama difficulta oru conversation iruka mudiyuma! Frst of all naama purinjuka vendiyadhu, naama pesradhu innoru person kita, avanga perspectives kandipa vera madri dhan irukum. ellorum orae madri ninaika mudiyadhu ilaya because unga ideas are based on what informations u recieved, ungluku therinja vishayangalum, kathukita anubavanglum dhan ungala oru vishayatha namba veikudhu, SO the other person ku kandipa vera anubavangal iruka vaaipu irukudhu ilaya, so pesrapo, kovapadama azhugaama, namaku theriyadhadhu avangluku enna theriyum, avanga yen ipdi solranga, yen ennai oppose panranga nu purinjukanum, namaloda sila ideas, views and perceptiona maathika readya irukanum, that way we can control our emotions during a difficult conversation.
Enaku therinja oru quote
"Every human is like all other humans, some other humans, and no other human."

3. Identity Conversation ( kadavul paadhi mirugam paadhi kalandhu seidha kalavai naan)
hmmmmm lenghthya pogudho! seekaram mudicharlam sariya lol
So indha conversations panrapo ellam, opposite side la irukravangla hurt panromo apdindra oru thought kuda varum apapo. Because we know our stance is totally against their Point. Apo sometimes, namala naamae question panipom. Naama yaru, naan nallavanaa ila oru mirugama! , indha anbuku urithavan naan dhana(Do I deserve all this love), namaloda self image ah difficult conversations baadhikum, apo elam namaku nama meleyae questions varum.
Am I honest or I m a cheater!, I am Good Vs I am an A**H**E!, Im Loving or Im hateful
podhuvavae nama identity pathi absolute ah oru mudivu la dhan irupom, either indha extreme or that extreme, epavum yaralayum apdi vaazha mudiyadhae! So apdiyum ilama ipdiyum ilama oru nadunilamai la ungala neenga vechu yosicha, indha identity crisis ah solve panlam. I mean, nama self image and suyamaridhai badhika padum nu sila vishayangala pesama thalli poduvom, apoo idha pathi naama yosichu pakradhu nalladhu!
Idhuku oru example solren, to understand this in a simple way!
Consider Mr.Loy is a loyal and honest person sarya
Ipo Mr. Loy oda best friend ku oru enemy irukanga nu veinga, andha enemy vandhu Mr. Loy kita oru help kekranga. Aana Mr. Loy ena nenaiparu, I am loyal to my friend so indha helpa andha person ku pana kudadhu nu ? Or namala madhichu oruthar namakita oru simple vishayam dhan kekranga, panlamaa ila vendama ? Am I loyal to my friend ??? BUT What Mr. Loy shld realise is, He can stay loyal either way! andha enemy ku andha helpa panradhu moolyama may be Mr Loy oda bestfriend kum irukra prachna sariaga kuda vaipiruku ilaya!


Ipo puriyudha, Identity conversation, its internal. namakula namaku namae pesikradhu!
idhaanga 3 types involved in any difficult conversation! conclude panidlam ipo!
LEARNING CONVERSATION

So, nama mela partha madri, 3 visyathayum purinjutu, pesa arambikanum. Normala naama ipdi oru conversationa start panrom apdinaalae, we might b trying to prove a point, or to tell someone oFF,
So, understanding whats NOT SAID in a conversation is also important! idhukaga dhan panjayathu pesradhuku moonavadhu aala koopadrom, avanga nadunilamai la velila irundhu observe pani cleara explain pani, solve pana try panvanga! Ellorumae oruthar ku oruthar irukura similaritiesa enjoy panra madri, differences ayum accept panii embrace pana, indha madri conversations romba productiva irukum la!
END NOTE : WE are complex creatures, but it doesn't mean that we cannot simplify if approached in the right way!
Lets not run away from what matters most!
I really appreciate YOUR TIME READING THIS!
Indha topic pidichrundha indha book uh try pani parunga ! nadamurai vaazhkai , businesses workplace conflicts, personal conflicts, negotiations nu ellathayum examples koduthu cover panirukanga!
Hmmm FEEL FREE TO SHARE YOUR OPINIONS
and Reply me with endha endha madri aana conversations elam neenga unga life la avoid panringa nu
Thanks again! idhuku response irundha, vera posts lam poduren lol